WELSH WATERFALLS
Landscape photography workshop in the heart of Wales
AUTUMN 2023 DATES NOW AVAILABLE
WELSH WATERFALLS
Join award winning landscape and wildlife photographer Drew Buckley on a Photography Workshop in 'Waterfall Country' - exploring the stunning waterfalls of the Brecon Beacons in Autumn.
Meeting in the morning we will start our workshop walking through the autumnal woodland, exploring these unique river valleys before arriving at one of the two waterfalls we'll be visiting. Spending time until we've exhausted the photographic potential, we'll head back to the car park for lunch and then travel towards the second waterfall before finishing around 4pm.
I will be on hand to provide instruction throughout and feedback at all times helping you to improve your landscape photography, learn new long exposure techniques and understanding your camera.
Dates
10th or 17th October 2023
What to BRING
Digital SLR
Lenses - wide angle, medium telephoto
Memory Cards
Fully charged batteries & spares
Tripod
Filters
Lens cloth to wipe spray off lens/filters
Small towel to wipe camera/lens
Wellies - preferred
Outdoor / Waterproof clothing
Location
Near Pontneddfechan
Neath, South Wales
Included
Full professional tuition and guidance throughout the workshop.
Cover correct camera setting and techniques, composition and using the available light.
Use of LEE Filters (if required)
Excluded
Lunch, dinner, drinks
Transport to/from workshop location
Personal and Accident Insurance.
FITNESS Level
This workshop is suitable for intermediate levels of fitness.
We will be covering a few miles from the car, and terrain will change between rocks, mud and it will always mostly be wet and slippery under foot. Photography around the waterfalls will require good sense of personal stability.
Wellies are a good option as this will allow unique angles from shallower stretches of the rivers if conditions allow.
WANT TO BOOK A WORKSHOP?
Head to the bottom of the page, along the way
View the samples – Read my reviews – Book
- SAMPLE IMAGES FROM WATERFALL COUNTRY -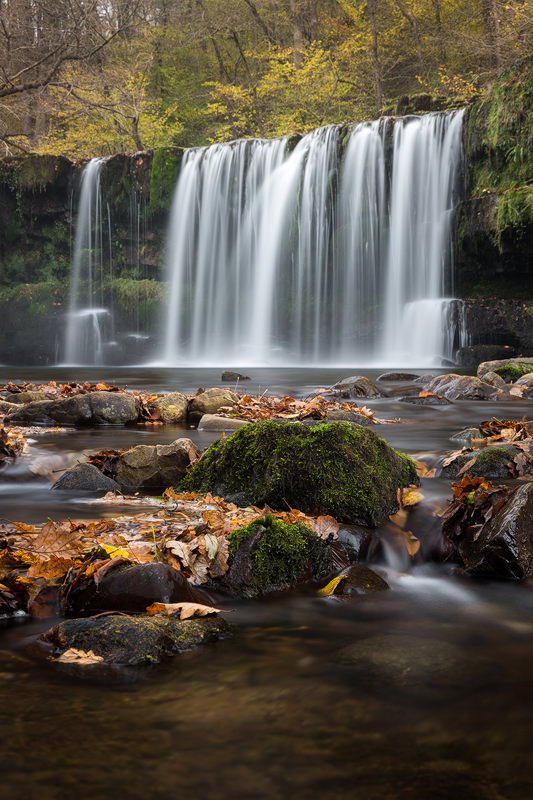 Explore & Discover Waterfall Country
A great afternoon spent with Drew learning loads of great tips about landscape photography. Taught/reminded me about several functions on my SLR camera that will really help me with my photography. He was very personable and knowledgeable - about the subject and our surroundings and the wildlife of the area.
Useful guide on what equipment to bring and the need for outdoor clothes, walking boots and any refreshment I might want to bring. He answered all my questions and covered the topics I wanted to learn more about. Always clear in his explanations and involving practical experience in taking pictures and discussing how they work/could be improved.
Lessons learned will stay with me and help improve my photography.
Highly recommended.
Thoroughly enjoyed a half day 1-2-1 session with Drew. I was looking for some general guidance and inspiration on the use of a new camera and it was well worth it. I learnt more in those 3 hours than the hours and hours I've spent scrolling the internet or reading books full of technical jargon. Drew was able to break it all down and demonstate different techniques and settings through example. It was a lightbulb moment for me in taking my photography to the next level.
Drew was a pleasure to spend a few hours with and easy to talk to - he's clearly very knowledgeable and experienced. I learnt a lot and I'm looking forward to putting it all into practice. I'd highly recommend his workshop to beginners, enthusiasts and professionals alike. Thank you.
Drew is clearly a photographer at the top of his game and it was an absolute pleasure to learn from the best during my one-to-one with him last week.
Took the opportunity of a Landscape Photography session with Drew and enjoyed every second and, even though I'm not a total beginner, learnt an incredible amount throughout. Drew's knowledge is amazing - both as regards photography and the local area and conditions and he put all this to good use in picking great locations for us to visit and then providing the coaching to get the best of the location and light. As a result, I'm staggered and immensely pleased with the images I came away with.
Drew's also a thoroughly nice guy with calm, relaxed but confident approach and couldn't do enough to help and provide advice.
Booking
The Welsh Waterfalls workshop costs £150 per person. If not enough people are booked on a particular workshop then it will be be cancelled and costs will be refunded.
Please read the Terms & Conditions below as all completed bookings will agree to these.
TERMS & CONDITIONS
Please read terms & conditions below before booking - click the headings to expand the sections
Confirmation of Booking
By booking through the website, you agree to all Terms & Conditions listed. A reservation is confirmed once full payment is received. I will then confirm your booking in writing typically via email.
Booking Conditions
Our workshops run in all weathers and each delegate should ensure that they have the correct all weather clothing suitable to the conditions and each delegate is responsible for the well being of their photography equipment and personal effects.
This is an outdoor photography workshop. Weather can be unpredictable. Drew Buckley accepts no responsibility in the event of any locations being out of sight or not in good light.
While every eventuality has been made to time this workshop with autumnal trees, leaves, colour and foliage - Drew Buckley accepts no responsibility for lack of autumnal colour, as seasonal conditions and timings are matters out of his control.
Loss or Damage
Drew Buckley will not be held responsible for any loss or damage to personal items or for any personal injury or accident. Delegates are respectfully reminded that our activities could potentially entail risk or danger and all activities are ENTERED INTO AT YOUR OWN RISK.
The venues and locations for this trip have no (or limited) medical facilities. Therefore please inform us of any health issues and ensure you take your own medication with the appropriate insurance in place in case of emergency.
Drew Buckley strongly recommends you make our own insurance arrangements against trip cancellation and curtailment, accidental death and disability, emergency medical evacuation, medical expenses, loss of personal effects, photographic equipment and other loss or injury as per a commercially available travel insurance policy
You agree to indemnify Drew Buckley against all loss and damage arising, directly or indirectly to the property and its contents from any deliberate or negligent act or omission by yourself, without limitation of the foregoing to pay us forthwith upon written demand our costs in making good any such loss and damage and cleaning.
Drew Buckley shall not be responsible for any loss, or damage to any belongings, or injuries sustained by your or any member of your party. 
Cancellation by Drew Buckley
Drew Buckley reserves the right to cancel the workshop at any time. Each delegate should ensure that they have the correct all weather clothing suitable to the conditions and each delegate is responsible for the well being of their photographic equipment and personal effects. 
Drew Buckley does not operate a cancellation insurance scheme and strongly recommend that you ensure that you have your own appropriate cover. 
If, for whatever reason, Drew Buckley needs to cancel a workshop, then full refund of monies paid by you to Drew Buckley will be made. However, Drew Buckley accepts no further liability beyond this, and, without limitation of the foregoing, we will not have any liability for travel costs incurred by you in relation to the booking. Any additional costs incurred outside the cost of the course including but not limited to transportation and accommodation will not be covered by Drew Buckley.
Cancellation by the Delegate
If the delegate is a "no show", then no refund to the delegate is applicable. Once a booking is made all fees are not refundable under any circumstances other than trip cancellation by Drew Buckley. 
Special Requests
Please advise Drew Buckley at the time of booking of any special requests such as diet or physical impairment. A specified level of fitness is required and Drew Buckley reserves the right to refuse to take a delegate if such a special request has not been notified at the time of booking.
Have any questions or queries about the workshop? Feel free to get in touch using the contact form below
welsh waterfalls - contact form