SENSATIONAL SKOMER
2 & 3 Night Puffin Residential
Photography Workshops on Skomer Island
OFFICIAL WILDLIFE TRUST & SKOMER ISLAND COMMERCIAL OPERATOR
Join Skomer expert and award winning landscape & wildlife photographer Drew Buckley and Nikon Ambassador, Richard Peters on either a 2 or 3 night photography workshop visiting one of Britain's finest island habitats and it's enigmatic wildlife.
This residential Puffin photography workshop will take place on Skomer Island; the best place to get up close and personal to its charismatic summer visitor, the Puffin. We'll spend many nights on the island seeing everything that the island in summer has to offer. From the swathes of colourful wild flowers, to hundreds of Puffins and seabirds flying around you, there's really no better place to spend a weekend!
About the Workshop
This tour is aimed at all levels of photographic experience and everyone will come away with good images of the birds. Over this trip we will be on hand 24/7 to answer any queries and help you get the best out of your camera. This includes guiding you through using the best camera settings and techniques for conditions on the day. We will cover choosing the correct auto focus mode and settings, selecting the right shutter speed and camera settings, together with tracking and panning techniques for the ever bird in flight photography. Even down to local knowledge, helping to predict the flight paths and helping to choose the right birds to look out for and identifying behaviour and when to anticipate the action, such as diving. We welcome those who are just starting out, or those who are experienced in bird photography looking to improve their images.
2022 Tours
For 2022 we have various dates available, each at a different time through the puffin season.
MAY
Three night workshop
Highlights to include vast carpets of Bluebells and cliff tops covered in pink sea Thrift. The bracken isn't as prominent during this time allowing you to see the topography of the island better, and ultimately spot ground nesting birds such as Short Eared Owls; who will be hunting among the wild flowers. There's typically patches of Bluebells around the Wick too, so Puffins nestled in them isn't uncommon. 
JUNE
Three night workshop
Weather permitting, expect great evening light and summer conditions and as the tour is nearer to the end of June, we should capitalise on hungry chicks wanting plenty of sand eel deliveries.
Longer days mean more available light, plus Manx Shearwater will also be coming to the island in their thousands, under cover of darkness. This trip falls over a Monday, which also means we get no day trippers to the island that day, giving us the entire island almost to ourselves.
JULY
Two or Three night workshop 
Weather permitting, expect great evening light and summer conditions. Puffin activity should be in full swing with plenty of birds flying in to feed their young, who should also be more visible to photographers lenses.
Manx Shearwater will also be coming to the island in their thousands, under cover of darkness. This trip falls over a Monday, which also means we get no day trippers to the island that day, giving us the entire island almost to ourselves.
Drew Buckley
Multi award winning landscape & wildlife photographer Drew Buckley has grown up and now works in the beautiful Pembrokeshire Coast National Park. Drew lives nearby and runs his own photographic workshops to Skomer every year, so it's fair to say he has intimate knowledge of the island, the area and it's wildlife. Drew has written his own book on the life of Puffins and he says they are one of his favourite photographic subjects. He's built up an impressive image library over the years of these clowns of the sea; one photo in particular, being featured on the front cover image of the highly acclaimed BBC Wildlife magazine.
Richard Peters
Richard Peters is a UK based professional photographer and Nikon Ambassador, with a style that often favours dramatic light and contrast. Through capturing a combination of mood, tones and atmosphere within his wildlife images, Richard's work has been awarded internationally including twice in the prestigious Wildlife Photographer of the Year plus, in 2015, being named the GDT European Wildlife Photographer of the Year. Richard has spent the last three summers visiting Skomer Island so has gained a lot of knowledge in finding the most favourable areas on the island for dramatic images.
Once on the island, unpacked and relaxed, our access is unlimited. Meaning you can go where you please via the paths, whenever you wish; and if conditions allow, you'll be happy the resident night owl Drew, is pretty handy at astro photography too! Pembrokeshire boasts some of the darkest skies in Great Britain, so you can imagine on a remote island with no light pollution the night sky is spectacular. The Milky Way is at its' best in late June and we've even seen the Aurora Borealis here before!
The real magic of staying on Skomer Island, lay within the fact that day trippers are only allowed on the island between 10am and 4pm. This means we have the entire island to ourselves for the most important parts of the day, sunrise and sunset. This allows for unprecedented and unrestricted photography all over the island, meaning you will never have to jostle with strangers for the optimum viewing positions.
Whatever the weather, day or night, we can take full advantage.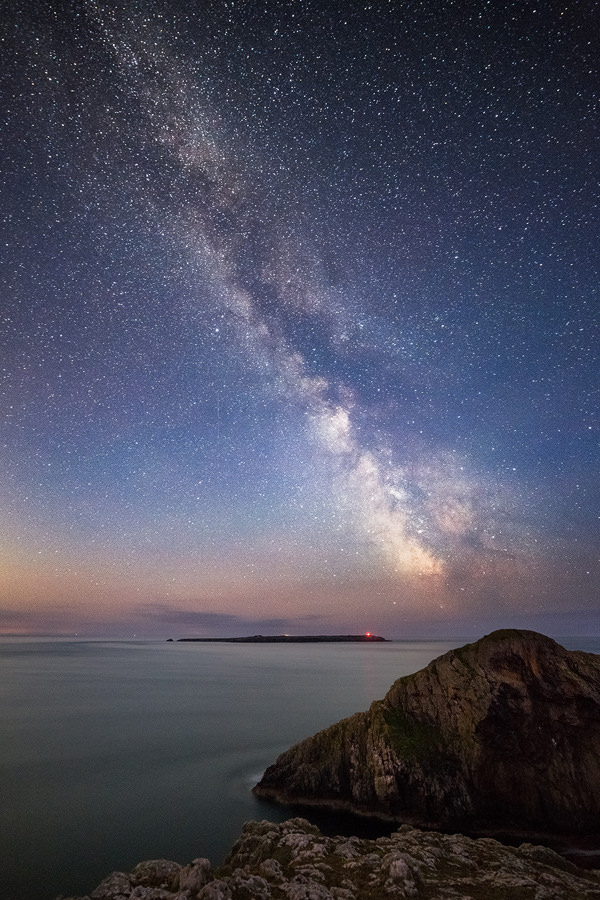 2022 Dates
​3 nights
MAY 20th - 24th
JUNE 18th - 21st
JULY 2nd - 5th
2 nights
JULY 7th - 9th
Location
Skomer Island, South Pembrokeshire, South Wales
Price PER PERSON
Two nights - £649
Three nights - £899
Deposit - £249 / £299
What to Expect
Puffins and seabirds in the thousands with great close up views. There's a constant whirl of birds at the Wick flying past that will test your photography tracking skills. Little & Short Eared Owls, Flora and fauna all over the island. Guillemots, Razorbills, Oystercatchers & Seals. Manx Shearwaters at night.
Included
All accommodation on the island
Half Board - breakfast and dinners on island
Soft drinks on the island
Island landing fee
Boat fee to the island
Excluded
B&B accommodation the night before departure
Car park fee
Lunch and snacks on the island
Alcoholic drinks on the island
Personal & Travel Insurance
Exertion Level
This workshop is suitable for intermediate levels of fitness. There are some inclines and declines when landing on the island, including a steep set of steps. On the island there are about four miles of well maintained paths, some parts there's quite a few elevation changes over uneven ground and some boggy sections. Generally easy going.
Accommodation
Accommodation is off grid living. The facilities provide simple, comfortable accommodation with electricity and hot water generated from the sun. There are same-sex shared bedrooms (dormitory) and a shared, equipped, kitchen. Pillows and duvets are available for you to use, but you need to bring your own sheets, pillowcase and a duvet cover or sleeping bag.
KIT LIST
Skomer is one of those places where you can use any lens and get a frame filler of a Puffin! From the widest wide angle to the longest telephoto and everything in between.
Book Now
Limited Spaces!
Please choose from the available spaces on the right, add the basket and checkout online.
A booking form containing further information will be emailed out after successful booking to sign.