Didn't manage get to around to writing this up last year, so I've made an effort this year to have a look back. That's what it is I guess. Time to reflect, pick out the favourites, see what happened and look forwards the next chapter. Without further ramblings (well done for reading this far!) here some of my favourite moments from 2014.
Here we go….
January
After quite a stormy Christmas last year, there were a few days of half decent weather. Not wanting to go too far, we headed for Gigrin Farm. Funnily enough I run Red Kite Photography workshops there >> link here << it's a fab place just to experience. After a miserable December, I still needed some images for our book. Oh yeh, we've got a book coming out too in March! Pre-Order it >> here << To say I'm excited is an understatement!!!
Images like this don't come together very often, so when they do it's very rewarding as a photographer. We had the most amazing light! It was very changeable from brilliant sunshine, to torrential rain back to sunshine again. As its winter, the kites are feed at 2pm and if you're lucky, you can witness some lovely golden afternoon light here. The kites were gathering and bang on feeding time there was sunshine and rain together which produced one of the most vivid rainbows I'd ever seen. I immediately set on trying to capture a Kite flying through the colours. Shooting from the specially built photography tower hide and using and choosing settings which would freeze any passing bird, I framed the best part of the rainbow. I tracked a few birds and hit the shutter the moment it soared through the colours; the afternoon sun helping to illuminate the underside plumage. It wasn't until reviewing the image I realised I'd caught a Buzzard as well in the same photo. A very unique image in my eyes and a great addition to our book!
Next up was a trip to Anglesey for our book January chapter ( pre-order link above 😉 ) – after the winter storms it must have been the best day of the month. Calm, sunny and generally warm.
Sunrise on Llanddwyn Island, Anglesey with the morning sun hitting the lighthouse of Tŵr Mawr and the peaks of the Llyn Peninsular in the distance. A long walk to get to this place for dawn, over a mile trudge along Newborough beach and timing it right with the tide as well proved tricky with the last of the high tide remaining, which made for a bit of a water rock hopping crossing between Newborough beach and nearby Malltraeth Bay. It's a real beautiful spot here at any time of day and a well photographed place at that. When shooting landscapes you always try to look for aspects that link up throughout the scene, boosting the depth and interest. The composition I've chosen here is using the natural curvature of the foreground rocks to lead the eye down and along to the opposite curve of the steps leading to the main focal point; the lighthouse. Early morning sun helping to give some lovely golden side lighting and contrasting with the shadows. You'll could be fooled into thinking this isn't Wales but it is, and what a fabulous part of our country!!
What precluded that scene though was an absolutely epic sunrise of all proportions!
Arriving at the car park on Newborough beach in the dark around 7am and wearing many layers on a cold January morning I started the long walk down the beach to the island. All the time walking due west I started to see the glimmer of some colour in the sky and the mountains begin to appear. Still only half way to the island I had to pick up the pace and walked as quite as I could along wet sand in wellies till I reached the tide crossing for the best viewpoint of the mountains. By this time the sky was literally on fire. I know light like this can only last minutes sometimes so set my camera up on a tripod with a longer lens. Shooting with a longer lens and taking lots of images to combine into a panoramic will make for a much fuller resolution final shot.  Dialling in the same settings and shooting one by one from left to right, I took over sixty images in total of the sky. The final panoramic is made up of the best eleven images with enough overlap to stitch them together to make this striking final composite shot of the Snowdonia mountain range.
The week after the weekend trip to Anglesey we headed up to Scotland for two weeks. Hoping for snowy landscapes and wildlife! It wasn't to be though, a very mild winter and snow only reaching the very tops of the higher ranges. However it didn't mean we didn't have a blast! Wildlife and landscapes are fab up there in all weathers, just need to stick it out for a glimmer of goodness! 🙂 First week was over neat Glencoe then the second week onto the Cairngorms.
The Great Herdsman / Stob Dearg / Buachaille Etive / Toblerone Mountain….whatever you prefer to call it; it has been photographed to death. However many times this iconic Scottish scene has been captured though, doesn't detract from the view of standing at the falls beneath this mammoth mountain. Just epic! Taken in a very brief period of sunlight hitting the snowy peak, the previous twenty minutes saw me cowering under my jacket shielding the kit whilst a gale force snow blizzard bombarded me….still, worth the wait though!
Second week in the Cairngorms consisted of a few murky days of no photos, a nice morning with some squirrels, a great day out with mountain hare and oh yeh, we got engaged 🙂
Walk in the snow to an empty Scottish loch in the woods, what's a girl to do? 🙂
February
Bit of a odd month, a few jobs here and there – wrote a big feature for Digital Photographer magazine on bird photography which was fun! Check it out >> here << Also we headed to Deeside for the "Wilder Wales" book, again – lucky with the weather, spot on sunshine!
April
Very busy month with a few things on the go. Most months I'm doing or have something published in a magazine, I won't list them all here – feel free to head over to my Publications page where I do my best to keep up with them all. The main one of all of these so far was this. My Puffin image gracing the cover of the new look BBC Wildlife Magazine. They had requested a high res of it, but didn't hear anything other than that. Not only a career highlight for me, but a personal one too as I have fond memories of looking through the BBC Wildlife Magazines my brothers had twenty odd years ago; being amazed by the images in there back then. My love of wildlife definitely stemmed from those days so to now have my own image featured on the cover of probably the best and most highly acclaimed magazine in the world, is just mind blowing!! Not many people can say they've had a cover shot on this magazine so I am truly overwhelmed and it's a massive honour and privilege. Now in its 32nd year of publishing, big thanks goes out to Wanda, Matt and the team for using it
First up of the month was a trip up to North Wales (again!) main aim, Black Grouse for our Wilder Wales book! Did I mention you can pre-order it?
Photographing these amazing birds has always been on my hit list and to photograph them in Wales, what an honour! Previously I'd have thought I would need to go to the Scottish Highlands to get a glimpse of these, but they're here in Wales, for all to enjoy! What made it even more special for me was having the special permission to set up a hide on the very moors that they call home and get close to the action. With thanks to help from friend Mike Warburton, we headed up onto the moor once the birds had finished their lekking for the day. Both of us up to our knees in boggy moorland in the fog and rain setting up our hide, it was a great laugh! Using the natural cover of a fallen tree we set up Mike's hide inside it and built around it using some branches to make it go unnoticeable in the landscape. Remember, this hide we built was a good quarter mile from the road across featureless moorland, and on returning the next morning it was tricky locating it again even with a torch (guess we did a great job of camouflaging it!) Finally finding it, getting in and setting the camera up around 4am ready for the birds to arrive about 5am. From the silence of the darkness, noises start to appear and you can just make out the white tail feathers moving around. I've never seen or heard a Black Grouse before so the eerie sound of these guys bubbling and calling just feet from you was definitely a unique and very privileged experience I always remember!
Later that month saw me take on a commission for the fabulous Pembrokeshire Coast National Park Authority in their rebranding for Castell Henllys iron age fort, that will be re-opening early in 2015 so looking forward to seeing my images used across their promotions and billboards!
May
May, the time of plenty and the coast comes to life! First few visits over to Skomer Island to see the Puffins on my 1-2-1 Photography workshops – love photographing these guys. Never a dull moment and every year I always manage to capture something new.
Also it gave me the chance to catch up with some new Badgers this year, many evenings staking them out and I've found roughly 15 more setts near me that are all active, but getting them out and about before dark has been nigh on impossible! A few evening sessions there found them coming out around half an hour after sunset so went there every night so eventually after plenty of dark failed attempts I managed to bag some shots.
Also May wouldn't be complete without a visit to the amazing bluebells at Dinefwr!
Other than the Daffodil, there's nothing more significant in spring than the carpets of Bluebells covering our native woodland. It's a real British scene we should be proud of; half the world's Bluebell woods are found in Britain so it's no wonder we have a real affection towards them. Photographing them can be tricky though as most of the time what you see with your eyes is never related onto camera as well. A good technique is drop the their level, this will increase the effect of density. Also use a circular polariser filter as it will cut down any foliage reflections and boost colouring. Still, you need to use the correct settings and time it right together with peak flowering and time of day, but those two tips will definitely help your shots. Possible shots too would be backlighting at sunrise or sunset together with being creative with low shutter speeds to include motion blur; either induced by the wind or camera movement.
June
I love June. What's not to love? Sunny all the time, warm, t-shirt and shorts, beaches look amazing and fab night skies. Bagged this image in early June which I still love to this day of the ISS travelling over Caldey Island with the Milky Way as a backdrop. This image went nuts across the media and papers, not to mention probably being the image that sold the most prints & canvases this year so can't moan! 🙂
I started planning this image at the end of last year – throughout the spring into summer the Milky Way shows the 'good' part around midnight, making it more accessible if you enjoy your sleep like me. However, through the summer it starts to change its angle and by the end of August it's near vertical due to the rotation of the earth. Composition of an image is a key part to all of my images and also the angle of the Milky Way can help balance up a scene. So the optimum timescale for this shot is possible over a few weeks in May & June. However, factor in shooting on a moonless night, slotting it in with my workload, not to mention whether the clouds will part you're then down to a very limited number of days. Looking at maps, I knew the ISS would be about – however until it appeared I didn't expect it to be a beautiful long bright pass, right across my composition. So lady luck was definitely on my side!
June was also the month I'd would start a commission from local holiday property agency FBM Holidays for their 2015 brochure. This saw me heading out and shooting more 'touristy' images, rather than moody golden hour sunsets. It was quite liberating actually and great fun. Seeing the county for what it's mainly used for and that's a mecca for the holiday season. It made me love this place even more and whilst I do enjoy my more typical style of landscape imagery, there's definitely a market for these that I'm keen to venture more into
In between my own 1-2-1 workshops over on Skomer Island, this time was different – I got to stay on the island for a few nights with the fabulous Natures Lens tour company ( please do visit their site to see the amazing places you can go! ). From living here and knowing the area so well, mainly working as a guide and on hand photography techniques helper. We had an amazing few days on the island with a great bunch of people who I'm now glad to call my friends. It was so popular that we're running two more trips in 2015 and they're both fully booked. Amazing! Please do visit the website though if you'd like to book for 2016 as waiting list is filling up already….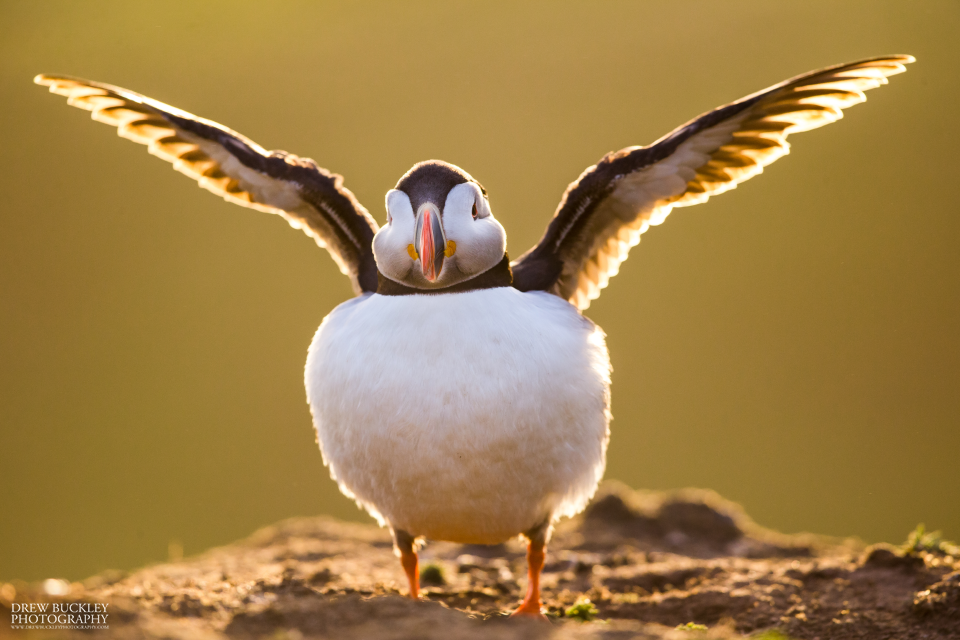 As if all that wasn't enough, we had a quick weekend away to Anglesey again (hardly ever been up north Wales and that's four times in one year!) Again for the book and this time for the June chapter focused around South Stacks. What a fab place, very similar to the seabird colonies we have in Pembrokeshire. Definitely lacking in Puffins but amazing all the same. Cracking focal point having the lighthouse out on an island and some great species of seabirds that congregate along the cliffs there. Also, backed by the moorland it's a very interesting habitat for a vast number of reptiles, lizards and bugs. Great place!
So that's a few highlights of six months worth. Next up will be the summer into autumn, Seals, Lake District and more of Pembrokeshire and wales. Subsribe to my newsletter and check back for updates soon! Thanks
As always prints available of most images and please subscribe to my blog using the box on the top right of the page, and enter your email address to receive further updates. Also follow me on social media by clicking the logos below. Thanks!